If you work in manufacturing, you know the problems when parts and finished products must be correctly identified. That's where professional marking labels come in, offering an efficient, hassle-free solution that can significantly improve work efficiency.
Having a professional team equipped with the right tools is essential for getting the job done quickly and effectively. While many solutions are available to meet identified needs, the most excellent flexibility is always provided by tools that enable us to create labels locally and according to demand. Various identification solutions are available today, ranging from advanced biometric systems to cutting-edge identification software. Businesses have access to a wide range of tools and technologies that can be used to verify the identity of individuals. With so many brands and options to choose from, it's essential to carefully consider functional requirements and areas of the application when selecting an identification solution. By evaluating available options carefully, businesses and authorities can choose the solution that best meets their unique needs and ensures accurate and reliable identification.
Gyula Bihari, the Supplies Business Development Manager at Antra ID Kft. since 1990, is also the head of the label business. Antra ID Kft. began its operations by distributing pricing machines, label printers, and accessories. Over the past three decades, tracking and identification technology has undergone a tremendous transformation. Different types of barcodes are now used in production and trade, and Antra has moved into the world of production for a good reason. The more complex and demanding the system, the more critical it is to invest time and energy. Antra ID Kft. Understands the importance of keeping up with the latest advances in identification technology and is committed to delivering solutions that meet the evolving needs of its clients. With Bihari's leadership and extensive experience, Antra ID Kft. is well-equipped to provide reliable and innovative labelling solutions for businesses of all types and sizes.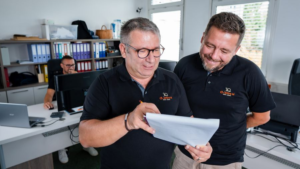 Gyula Bihari states, "We are experts  in all tracking and identification technologies used in production. A high-quality label with a well-designed and finished print is essential for efficient operation. That's why it's important to consult an expert. Improper printer and label design can affect both the printer itself and the lifespan of the printheads, resulting in higher maintenance costs. Poorly designed and printed labels can complicate the reading process, leading to additional operating costs." At Antra ID Kft., they understand the importance of quality labelling and provide expert guidance to ensure that their customers' labelling systems operate efficiently and effectively. By working with Antra ID Kft., businesses can be confident that their labels are designed and printed to the highest standards, reducing maintenance costs and ensuring reliable operation.
Our extensive product portfolio includes a wide range of label options, from simple unprinted paper labels to durable synthetic materials, including polyester, polyamide, and even ceramics resistant to temperatures up to 1400°C. We also offer destructive barcode security labels for added protection. We provide monthly label delivery and preventive maintenance for label printers for framework contracts, ensuring optimal performance.
Our labelling solutions can be used on various surfaces, including paper, plastic, metal, and more, and we offer weatherproof options for added durability. Our labels, label printers, and barcode readers are used in various logistics applications, making them a reliable choice for businesses of all types and sizes. With Antra ID Kft., customers can be confident that they receive high-quality labelling solutions that meet their unique needs and requirements.
There are countless places where you can obtain identification labels. Still, accordingly, there can be innumerable differences between them, all of which will affect their later application possibilities and, thus, the logistics process's efficiency. The biggest challenge is choosing the correct label for the given application in the environment. Regarding parts labels, good adhesion, durability, and legibility are essential. Things can be more frustrating than when a label falls off or becomes unreadable, disrupting logistics. With 30 years of experience and extensive knowledge of barcodes and RFID technology, Antra understands precisely what materials, sizes, and printing technologies are required for reliable operation. Antra also provides ready-made label solutions for customers who need mechanically shock-resistant, moisture-resistant, heat-resistant, and solvent-resistant labels. With their expertise, the company ensures that the brands they provide are of the highest quality, meeting the demanding requirements of modern supply chain operations. Antra helps its customers avoid frustrating logistics disruptions and keep their operations running smoothly by providing labels with suitable properties.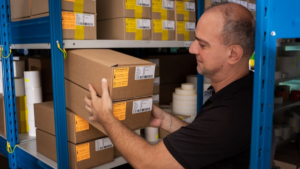 Starting in 2022, Antra ID's label distribution contracts, backed by the international expertise of Central European Automation Holding, will not only provide timely delivery of high-quality labels but also include maintenance of the relevant printers. This comprehensive service means no more finger-pointing between vendors, as Antra's centralized approach to identification technology can be a cornerstone of smooth logistics operations. An often-overlooked issue for label buyers is the compatibility between labels and ink ribbons. Antra addresses this problem by offering them together, ensuring flawless operation later. They conduct in-house tests, particularly on shiny plastic surfaces, when new materials appear and only deliver reliable systems that meet their stringent standards. With Antra's integrated approach, customers can have complete confidence in their label and printer systems, avoiding disruptions when working with multiple vendors.
A decade ago, many experts believed that the paper-based marking label was a thing of the past and that digital identification technology was the present and future. While RFID has many advantages over barcodes, it has yet to completely replace them due to cost implications and the human factor. Visual identification remains relevant, even for industrial companies using the most modern production technology. When employees move around warehouses without mobile devices, printed labels are still essential for product recognition. As a result, managing paper-based labels continues to be a critical task for logistics experts such as Antra ID Kft. The idea of a paperless factory may seem like science fiction, but the reality is that paper-based labels remain an essential part of logistics operations. While digital identification technology offers many benefits, it has yet to replace traditional marking labels due to cost and the need for visual identification. Antra ID Kft. Understands the importance of managing paper-based labels and provides expertise in logistics to ensure that their clients' operations run smoothly. Antra ID Kft. is well-positioned to help customers navigate the complexities of modern logistics by staying up to date with the latest advances in identification technology while still recognizing the importance of traditional paper-based labels.
"At the same time, we also have comprehensive knowledge in the field of RFID technology, which we have successfully introduced and implemented at the largest industrial companies. Our active, semi-passive, and passive product portfolio ranges from simple, printable tags to unique hard tags that withstand powerful mechanical effects. Although the cost value of RFID tags is higher than that of other tags, in return, they can store and process much more data, added Gyula Bihari. – For many years, our customers were multinational companies, but small and medium-sized enterprises have recently discovered data collection and traceability advantages. We know logistics processes very well, so we can help our customers right from the planning of the concept. We don't deliver technology; we deliver a solution."
– TECHmonitor